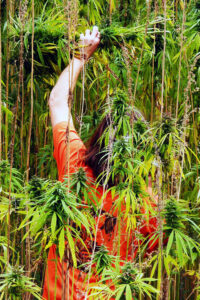 Would you like to deepen your knowledge about hemp, work in the fresh air in the "green jungle" and help us hand pick our crop? You are welcome to join us at bio farm Sasov for our harvest!
You will receive a 2h workshop Hemp and hand-picking harvest at the bio farm Sasov, which covers basic information about hemp, its content, health benefits, usage within industries, work in the field, etc. and it is free for our staff.
Accommodation is possible in facilities of nearby airport in Henčov. To reach the farm use the public transport.

What do we harvest?
The resulting product is cannabis flowers and leaves stripped of the stem.
Working hours
Harvest starts daily at 9am, including weekends. The daily norm is 8h and 50kg of crop (in case of working in the field). If daily norm is met, you receive a free lunch (choice of vegetarian or meat hot meal).
Weather
We do not work in the field during rainy days. In this case, we focus on work inside the facilities of the farm connected with harvest or the Hempoint office (drying of the crop, packaging, cleaning of the facilities …).
What to bring
Work clothes (according to the weather), boots, water bottle.
We provide free Hempoint Harvest 2017 t-shirt and working gloves.
Thank you for sharing or forwarding our invitation to potential candidates!
hanka@hempoint.cz, +420 777 027 012
https://www.facebook.com/events/114820482487621