Sometimes a book changes everything. That's how it was for me in 1996 when I read the work on cannabis by the legendary Jack Herer.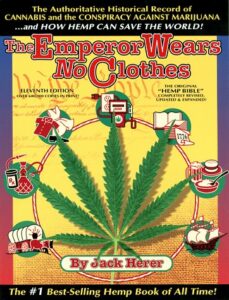 The Emperor Wears No Clothes, Herer's takeoff on the Hans Christian Andersen allegory, awakened something in me. First, it opened my eyes to the rich history of hemp down through the ages. It's been with us from time immemorial; it's fed us, kept us healthy, built our homes and clothed us.
Second, "Emperor" is the definitive chronicle of how, wrongly, all forms of cannabis became prohibited in many parts of the world, essentially sidelining the rich potential for non-THC industrial hemp for decades. Herer's book exposed to the world the hypocrisy and ignorance of those who would lump hemp with marijuana in the misguided belief that it was just another way to get high.
Thus inspired, it quickly became clear to me that hemp would be my lifelong mission.
During last 20 years I've traveled all over the world to attend and speak at hemp events, building up a network of hemp pioneers around the globe. When I meet new, likeminded people who are as excited about hemp as I first was, it always gives me inspiration and energy to move forward.
There came a moment when I realized that the most efficient way to destroy the prejudices against hemp was to let people taste it, feel it by somehow getting them to touch or interact with products made from hemp. So in 2010, I founded Hempoint, one of Europe's pioneering hemp companies offering a wide range of food and health products. At Hempoint, we also offer educational and informational tours during which you can come to the farm and see hemp in the fields, observe the challenges of processing it into different products and, most importantly, sample our offerings.
See how our hemp operation fits in with organic farming; and, if you're interested, we offer advice to support you in starting your own hemp operations. Our company is based on mission. So our approach has always embraced the broader goal of spreading the hemp movement as far and wide as possible through lobbying, education and networking among the unique and wonderful people of the hemp revolution.
Truly discovering the potential of hemp is a never ending journey, but one thing is certain: Hemp truly can help us to save Mother Earth.
Bc. Hana Gabrielová
CEO of Hempoint, s.r.o.